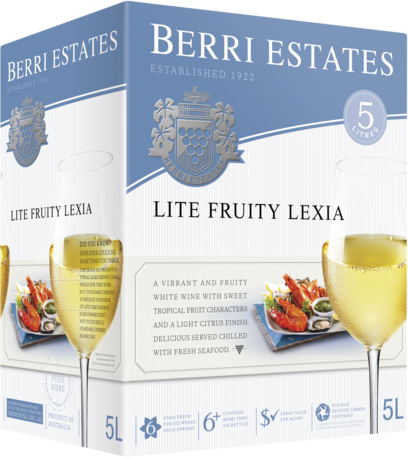 Cask   /   Sweet White
Berri Light Fruity Lexia Cask 5LT
(PLU #1126)
Product Details
Established in 1922, Berri Estates has a long and successful history in the Australian wine industry and now is the number 1 brand by volume* in Australia with over 1.87 million 9Le sold annually.
Berri Estates offers a diverse range of products including Australia's largest selling single SKU by volume; Berri Estates Fresh Dry White**.

Viticulture
Our Fruity Lexia is made from carefully selected parcels to create a rich fruity Lexia. The Riverland region experienced warm to hot days and cool to mild temperatures at night during the ripening season. It was mainly dry with little to no rain. The resultant Lexia
is pure and flavoursome. The Riverland region is a great place to grow quality Gordo
grapes. The warm summer days and cool nights allow for optimum flavour development during the 2019 vintage.
Tasting Notes
Fresh tropical notes of passion fruit, pineapple and melon.