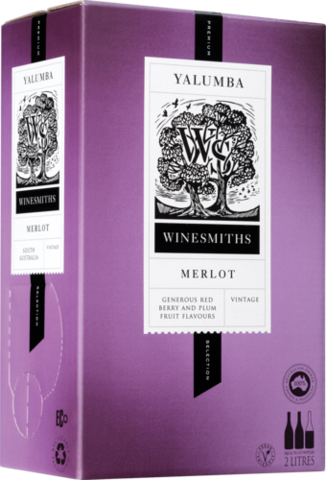 Cask   /   Merlot
Winesmiths Premium Selection Merlot Cask 2LT
(PLU #551)
Not in stock currently
Would you like to be notified when it comes back in stock at ?
Yes, Notify Me!
Product Details
In 1849 a young man by the name of Samuel Smith, with a passion for horticulture, purchased 30 acres of land in the newly settled Angaston. He planted a vineyard and an orchard, which grew to bear fruit and his family prospered. 170 years of winemaking and horticulture later, the elm trees he planted still overlook Smith's original garden and his great-great-grandson continues the family tradition of winemaking, horticulture and craftsmanship. Five generations of Winesmiths have created this timeless range of premium cask wines.
Tasting Notes
Smooth and refined with tantalising plum, red currant and raspberry aromas, touched by a hint of delicious dark chocolate. Generous, soft and silky.