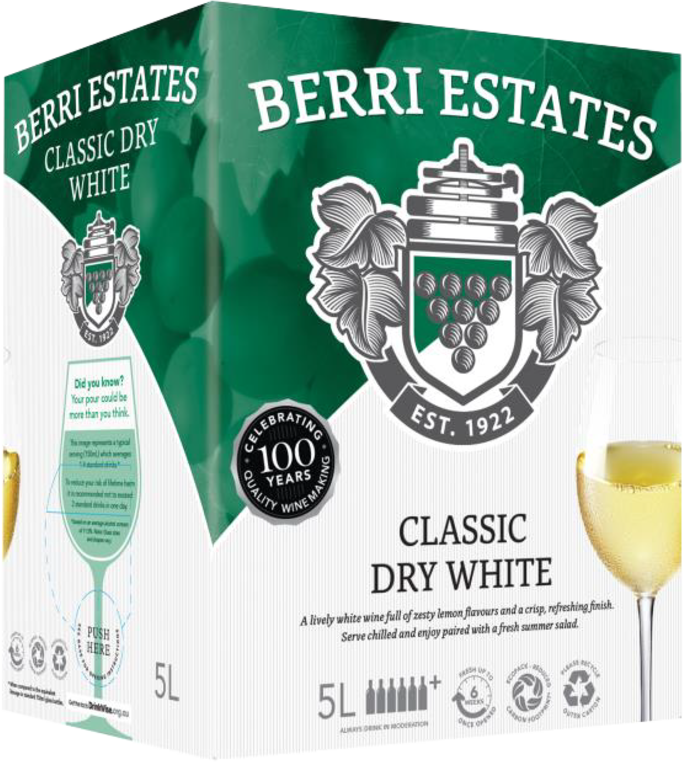 Cask   /   White Blends & Others
Berri Classic Dry White Cask 5LT
(PLU #3921)
Product Details
Established in 1922, Berri Estates has a long and successful history in the Australian wine industry and now is the number 1 brand by volume* in Australia with over 1.87 million 9Le sold annually.
Berri Estates offers a diverse range of products including Australia's largest selling single SKU by volume; Berri Estates Fresh Dry White**.

Viticulture
Our Classic Dry White is made from carefully selected parcels of white to create a fresh and flavoursome white that is easy drinking.
South Eastern Australia has a climate well suited for growing number of different vines, with warm summer days and plenty of sunshine allowing full fruit flavours and sugars to develop. The 2019 vintage had an optimum ripening season, with warm days and cool nights allowing superlative flavour development.
Tasting Notes
A lively white wine full of zesty lemon flavours and a crisp, refreshing finish. Serve chilled and enjoy paired with a light summer salad.