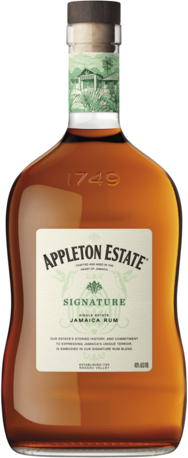 Spirit   /   Rum
Appleton Estate Signature Rum 700ML
(PLU #5502)
Product Details
THE AGE & BLEND
Crafted with Jamaican limestone-filtered water,
with no added flavours. This is a blend of pot and
column still rums aged for an average of 4 years
(no age statement on the bottle).
APPEARANCE
A beautiful harvest gold and amber colour,
with remarkable clarity and brilliance.
BOUQUET & FLAVOUR PROFILE
Fruit forward expression with aromas and
flavour notes of dried apricot, fresh peach
and a subtle hint of sweet molasses.
FINISH
Finishes serenely, as it started.
HOW TO ENJOY
An easy mix cocktail such as a Jamaican Mule.
Tasting Notes
A delicious blend of 15 aged golden rums with a warm honey colour, a lush, fruity aroma, and a rich taste.