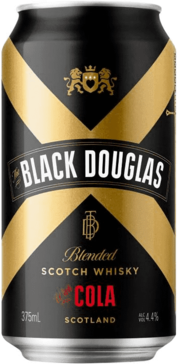 Rtd   /   Scotch
Black Douglas Scotch & Cola Can 24X375ML
(PLU #4299)
Stock not available
currently only has 0 on hand. Please reduce your quantity to add to your cart.
Product Details
The Black Douglas Scotch Whisky & Cola. AROMA: Some slight smokiness and woodiness with citrus notes.
Tasting Notes
Dark in colour with a strong whisky flavour combined with cola giving it strong citrus notes with some spiciness delivers a reasonably sweet finish.