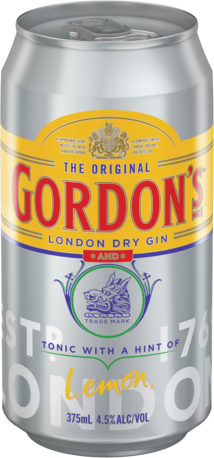 Rtd   /   Gin
Gordons Gin 4.5% & Tonic Can 24X375ML
(PLU #2844)
Stock not available
currently only has 12 on hand. Please reduce your quantity to add to your cart.
Product Details
The crisp, refreshing taste of Gordons London Dry Gin perfectly mixed with tonic and a twist of lemon.
Tasting Notes
The distinctively refreshing taste comes from using only the finest ingredients including juniper, coriander seeds and angelica root, lengthened with the perfect balance of Tonic water.