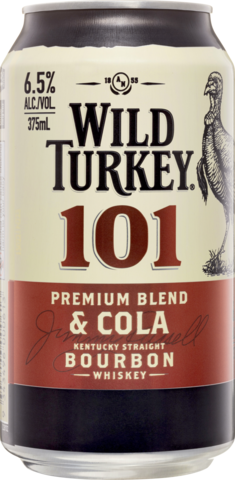 RTD   /   Bourbon
Wild Turkey 101 Premium Blend Kentucky Staright Bourbon Whiskey & Cola 4 Pack 375mL
(PLU #4546)
Product Details
Wild Turkey® and Cola 101 Premium Blend Kentucky Straight Bourbon Whiskey
Many years ago, a hunter brought a private supply of this exceptional barrel- aged bourbon, on a wild turkey hunt, earning its name that is now the benchmark of quality bourbon.
Wild Turkey Kentucky Straight Bourbon is a legendary American icon, expertly crafted by our master disteller Jimmy Russell and his son, Eddie.
Tasting Notes
Wild Turkey 101 Premium Blend & Zero Sugar Cola 6.5% Premix. Wild Turkey 101 Zero Sugar Premix is best served icy cold or on the rocks. Wild Turkey 101 Premium Blend balances the sweetness of a zero sugar cola with bold earthy characters to give it a refreshing body and smooth finish. It's perfectly aged bourbon flavours carry through with a higher proof.