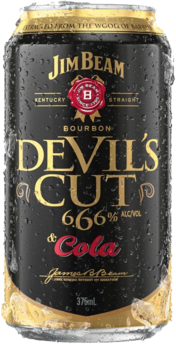 RTD   /   Bourbon
Jim Beam Devils Cut Bourbon & Cola Can 24X375ML
(PLU #7542)
Not in stock currently
Would you like to be notified when it comes back in stock at ?
Yes, Notify Me!
Product Details
Jim Beam Devils Cut & Cola 6.66% is extracted from the wood of barrels.
Tasting Notes
As Bourbon ages, a portion of the liquid is lost from the barrel due to evaporation. That's the "Angel's Share". After aging, when the Bourbon is dumped out of the barrel, a certain amount is left trapped within the wood. We call that the Devil's Cut.