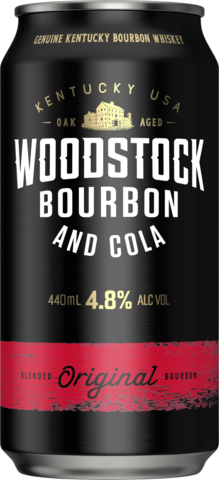 RTD   /   Bourbon
Woodstock Bourbon & Cola 4.8% Can 4X440ML
(PLU #981)
Sorry! Not available for purchase just yet!
Sorry Legend, we don't have this product available for purchase online yet. Be sure to check back soon.
Product Details
Woodstock Bourbon & Cola is charcoal filtered for a smooth taste. The perfect addition to Friday night outs or weekend catch-ups.
Tasting Notes
Woodstock 4.8% is a premix of smooth Kentucky Bourbon and cola. The 100 per cent Kentucky Bourbon has been distilled and left to mature in American Oak barrels before being mixed with cola.